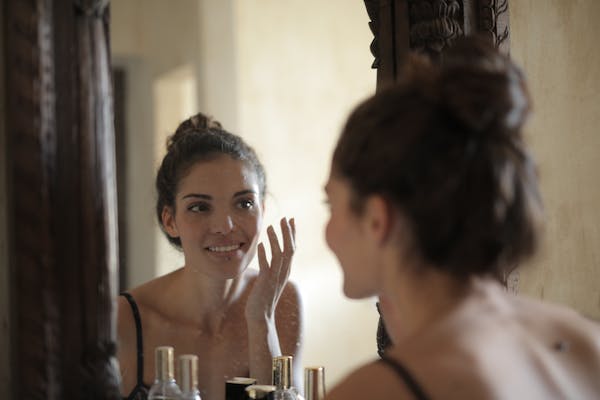 Ceramides - The Powerhouse of Skincare
While ceramides may not be the most well-known skincare ingredient, they are certainly deserving of more recognition. 
What are Ceramides?
Ceramides are a type of lipid molecule found naturally in the skin. They are an important component of the skin's barrier, which helps to protect the skin from environmental factors such as dryness, pollution, and bacteria. Ceramides can be found in a variety of skincare products, ranging from moisturizers, cleansers, and serums. 
How do they work?
When applied topically in skincare products, ceramides work to supplement the skin's natural ceramide levels and help reinforce the skin's barrier function. This can help to improve the appearance and overall health of the skin and may be particularly beneficial for people with dry or damaged skin.
Benefits of Ceramides for skincare
There are several benefits of incorporating ceramide into your skincare routine. 
1. Moisturizes and hydrates:
Ceramides help to retain moisture in the skin by forming a protective barrier on the surface of the skin. This can help to reduce the appearance of dry, flaky skin and boost hydration.
2. Repairs and restores:
Ceramides can help to repair and restore the skin's natural barrier function, which can be damaged by environmental factors such as UV radiation and pollution.
3. Anti-aging benefits:
By helping to maintain the skin's natural barrier function, ceramides may also help to reduce the appearance of fine lines and wrinkles, giving the skin a more youthful appearance.
4. Reduces inflammation
: Some studies have suggested that ceramides may have anti-inflammatory properties, which can be beneficial for people with certain skin conditions such as eczema or psoriasis.
5. Enhances skin barrier function
: 
The skin barrier
plays a key role in protecting the skin from environmental damage and maintaining healthy skin. By helping to restore and maintain the skin's barrier function, ceramides may help to improve the overall health and appearance of the skin.
Don't let this skincare secret pass you by - consider adding ceramides to your daily routine and experience the magic for yourself.
Conclusion:
Ceramides emerge as a powerhouse in skincare, offering a myriad of benefits to support your skin's health and vitality. From enhancing moisture retention to fortifying the skin's natural barrier, ceramides are a skincare essential. However, for a holistic approach to wellness, it's important to complement your skincare routine with the right nutritional support. Consider incorporating skin gummies and essential nutrients like biotin gummies, and multivitamin gummies to nourish your skin from within. And for a peaceful night's sleep, explore the benefits of sleep gummies. Additionally, you might want to consider adding iron gummies to your routine. Iron is a crucial mineral that supports various bodily functions, including oxygen transport and energy production. Together, these skincare and nutritional elements can help you achieve a radiant complexion and overall well-being.